On Saturday, September 17, hundreds of Knottwood residents came out to help officially open the brand new Knottwood Community Centre.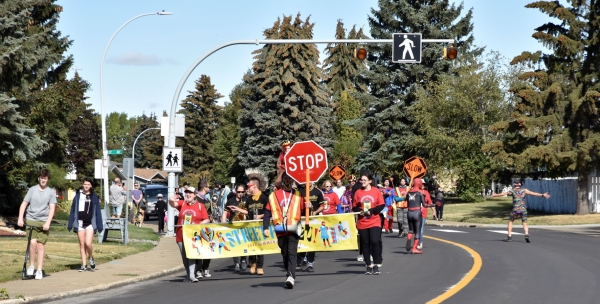 The day kicked off with a parade through Knottwood by the Edmonton International Street Performers' Festival. The performers gathered neighbours together and brought them to the new Centre for the official opening.
We were lucky enough to have many special guests join us, including Mayor Sohi; Councillor Keren Tang; Christina Gray, MLA; Rodrigo Loyola, MLA; and Tim Uppal, MP, who were in attendance to cut the ribbon and officially open the new space.
Immediately following the Ribbon Cutting Ceremony, over 300 Knottwood residents toured the new facility, enjoyed Street Performers' variety shows, took part in games and activities, caricatures, and more.
"Countless volunteers have worked very hard over many years to make this new community space a reality," says Knottwood Community League President Thomas Shaw. "After two decades of fundraising and 10 months of construction, to have officially opened the Centre on Edmonton's Community League Day – a day when neighbours celebrate all the great work that leagues and volunteers do to build a greater City – we couldn't be more proud."
The new Knottwood Community Centre will now provide Knottwood residents, surrounding Mill Woods communities and local community groups with a 2500 sq. ft hall and 550 sq. ft fireside lounge; barrier-free washrooms and an outdoor accessible washroom; a large kitchen for teaching and programming; community office and meeting spaces for small businesses and non-profits; and outdoor gathering spaces. The Centre will also be available to rent.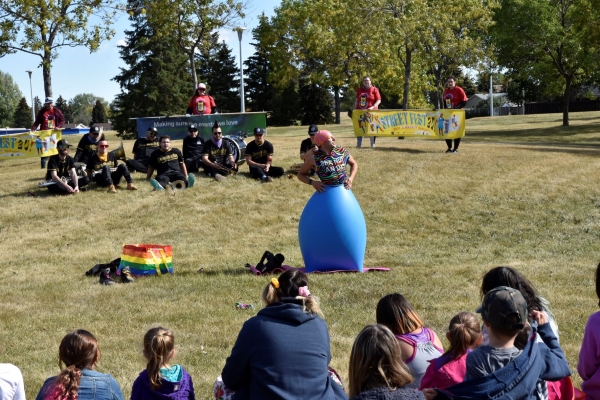 "After 45 years without having an adequate and accessible community space, we wanted to build a Centre that would allow us to welcome people of all ages. We can now offer programs for a variety of groups, including seniors, families, adolescents, youth, and other local community groups, such as Scouts," says Shaw. "In addition, we plan to bring a wide range of programming and events to Knottwood and the south side of the City, including more arts and culture offerings, community safety initiatives, and programs to tackle and combat social isolation."
The new Knottwood Community Centre is a part of the ongoing community rejuvenation efforts undertaken by the league.
"We are so grateful to everyone that has made this project possible – from funders to project advocates and volunteers – and to have so much support to officially open this space, from the Street Performers' Festival, local businesses and all of our government representation, we are grateful for all of the support."
Click here for info on the new Knottwood Community Centre and how to rent the facility.