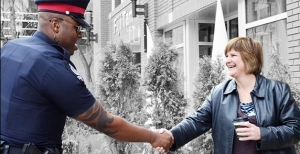 Knottwood Community League works hard with residents and local organizations to help keep our community safe.
There are great ways to decrease your chances of becoming a victim of crime. EPS has great information on how you can protect your property. The Home Security Checklist is a great tool to help people get in the crime prevention mindset.
Community members need to remain vigilant by reporting all suspicious activity and crimes to police. If you SEE something, SAY something — no matter how big or small you may think it is. This could be something like panhandlers in the area or someone riding around on a bike wearing a backpack that just doesn't seem to belong here.
Even if you are unsure that something should be reported or not, do it anyway. Every time we report something, it appears on the crime map and the police are notified. This helps them see where things are happening and where resources need to be.
There are multiple reporting/crime mapping/information tools for community members to use:
Be kind to your neighbours and engage with them. For example, their property may be unsightly, but perhaps they don't have the knowledge or tools to keep it up, offer to give them a hand. You may make a new friend.
Community building/participation – an engaged and active community can deter crime, decrease social isolation and bolster legitimate activity. And what better way to do this by getting involved in Knottwood! There are multiple ways you can be involved https://knottwoodcommunity.ca/
Host a block party – this is a great way to get to know your neighbours. Learn who doesn't belong there. Knottwood sponsors three block parties each summer. Contact programs@knottwoodcommunity.ca if you would like to be sponsored. Learn more about block parties and sponsorship
Get Involved with Knottwood's Abundant Edmonton program – Knottwood has recently started an Abundant Edmonton program in the area. We are looking for people who are willing to become block connectors to help introduce neighbours to each other. We are also encouraging people in Knottwood to host a social event this summer to meet their neighbours. Learn more here: For information on how to become a block connector, email volunteer@knottwoodcommunity.ca.
Get an alarm system. There are numerous systems available on the market. Shaw and Telus have systems for their customers that can be billed as part of your packages. One of the Knottwood membership benefits is a discount with Liberty Security. Learn more.
Questions? Get in touch with Knottwood Community League's Programs director at programs@knottwoodcommunity.ca