Meet James Grindlay. He is a fellow Knottwood resident with an incredible story who will be continuing Terry Fox's Marathon of Hope this September.
At a young age, James was diagnosed with the same kind of cancer as Terry Fox. Since then, he has beat cancer not once but twice and has been an avid supporter of the Terry Fox Run since 1986.
For his 35th year supporting the run, his goal had been to volunteer and help fill Kinsmen Park with as many new supporters as possible. However, COVID-19 foiled this plan and James had to rethink how he could help.
After an incredible act of kindness this past May, where friends and family joined together to purchase him the sold-out, limited-edition Terry Fox Anniversary Adidas runners that he missed out on, James knew what he wanted to do. Although he was not a runner, he decided to complete a 42.2 km run — a full marathon — to raise $20,000 for cancer research and to continue the journey that Terry Fox started in 1980.
He has since also been named the Honourary Chairperson of the Terry Fox Run Edmonton this year due to his incredible story and perseverance.
James will be completing his run on Saturday, September 19, starting out and finishing up in Knottwood.
You can read more about James' inspiring story below in his own words.
Should you wish to donate to his cause, you may do so here.
You can follow along with James' journey on Facebook at James Grindlay Continues the Marathon of Hope.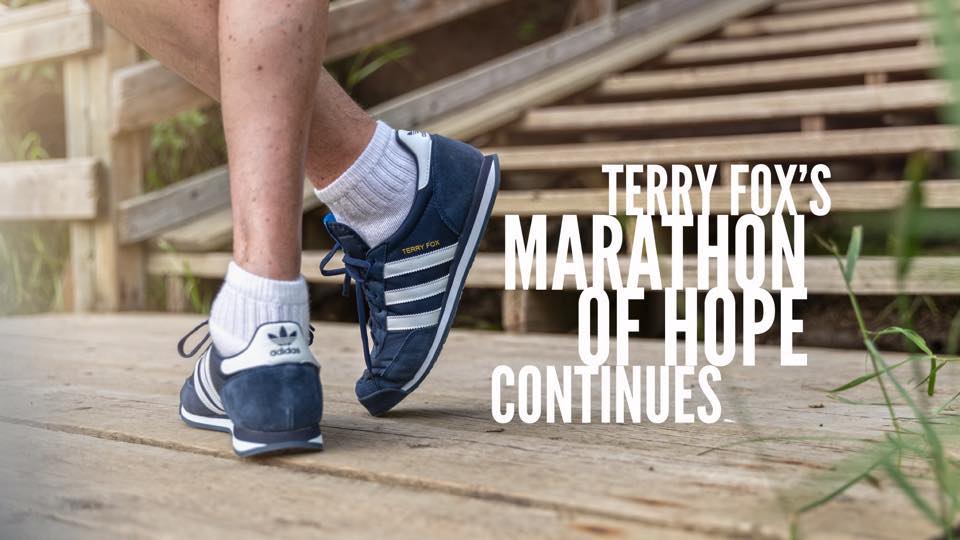 Why James decided to run a marathon in 2020.
In May, Adidas released a replica of the pair of shoes that Terry Fox wore in 1980 during his Marathon of Hope. Unfortunately, I missed out on getting a pair as they sold out within minutes. Soon after, I posted to social media that I was looking for a pair in my size. Without my knowledge, my friend Melissa started a secret campaign and within a couple of days had raised over $4000 for The Terry Fox Foundation and managed to secure a pair of shoes for me!
I was out for a walk with my young family when she messaged me with this incredible news. This gave me a chance to really think. To think of what my friends had done and what Terry and the Fox Family have done. I was grateful and inspired. I wanted to challenge myself to do something BIG! By the time we got home from the walk, my mind was made up. Right then and there, I announced that I would run a marathon in memory of Terry Fox and with the goal to raise as much money as I can for The Terry Fox Foundation. I am going to run a marathon!!
James' cancer story
My cancer journey started in the summer of 1986. I was a 9 year old boy, riding bikes off jumps and building tree forts in the forest.
Life all changed in early August when my right lower leg began to swell up. Thinking it was a bruise caused by playing soccer, we let it go for a week. After a week, my parents decided to take me to the doctor. The doctor was my best friend's dad, Dr. Keen. I remember the look on his face the moment he looked at the x-ray. Right then and there I knew something was wrong.
Shortly after I was sent to the Children's Hospital in Calgary for a biopsy. It confirmed that I had cancer. A rare bone cancer called Ewings Sarcoma that mainly affects children. The doctors told my parents that I had a 30% chance of living. However, I believe that was exaggerated. In the '80's, the long term survival was actually less than 10%.
In late August, I was booked in to have my right fibula removed. The surgery took 13hrs, but it was a success. They had gotten it all. I was later told that if I had been diagnosed just six months earlier, I would have lost my leg like Terry. If I had been diagnosed six months later, I would have been able to keep my fibula. This just goes to show the impact of the money raised by Terry for cancer research.
Unfortunately, this was just the start of my battle. Chemotherapy started about a month after my surgery. This went on for the next 12 months, as well as almost 2 months of radiation and multiple follow up surgeries. After more than a year of fighting for my life we were told I could go home.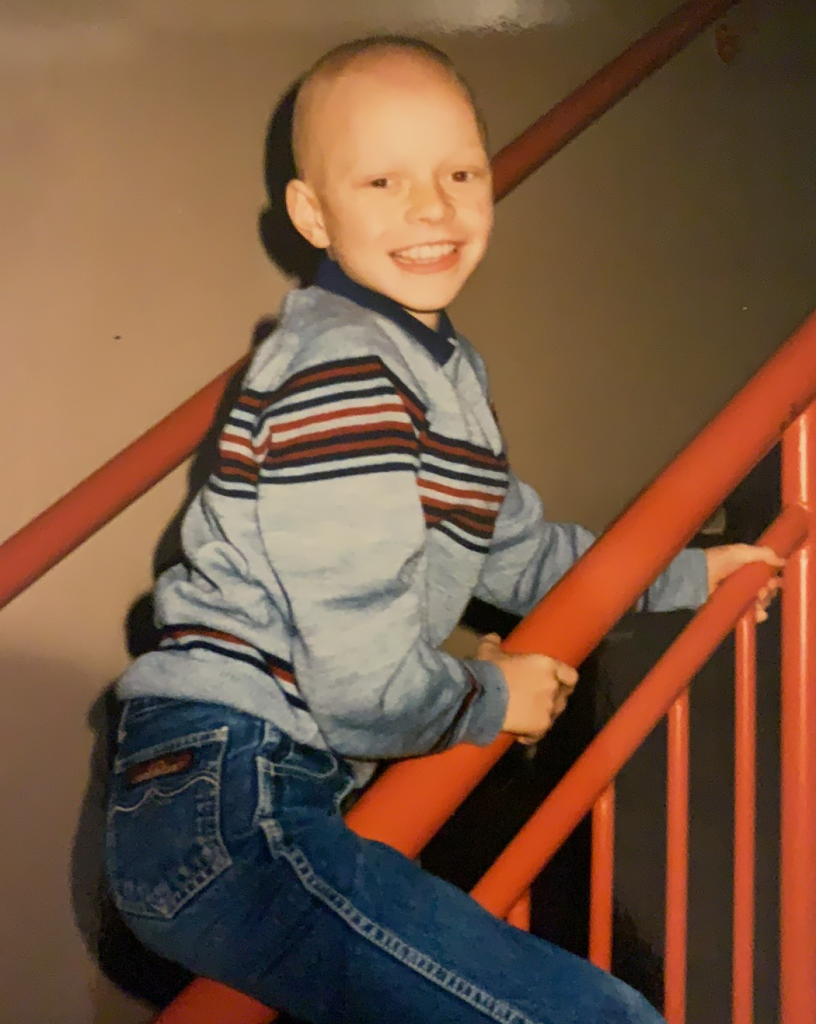 I was cancer free. I was cancer free because of many factors. The Marathon of Hope, The Fox Family, my loving and supportive parents and siblings, my amazing team of doctors and nurses and hope! Maybe I was too young to really understand the situation, but I never ONCE thought I was going to die.
My mom read me a book while I was in the hospital, it was about a soldier who was wounded in the war. It spoke about the power of the mind and positive thinking. He took the pain from his wounded leg and put it into his good leg, this allowed his injured leg to heal. I did this day in and day out.
This mindset has stayed with me my whole life. Positive thinking. How high is that hurdle and how high do I have to jump?
Now in 2020, since my first run in late May (a whopping 1.4km run) to my most recent where I ran 30.6 km, I have had a lot of time to think. To really put into perspective what Terry and the Fox Family have done for all of us.
For me, they saved me!
They have saved thousands because of their selfless acts and dedication.
I will forever be indebted and will never stop.
Cancer affects us all.
You can read more about Terry Fox's Marathon of Hope here.
---
Do you know of a Knottwood resident with a good news story to share? The Knottwood Community League would like to help tell the stories of our neighbours. Please email Michelene Deck at vp2@knottwoodcommunity.ca with any story ideas.