Knottwood Community Rejuvenation Project
The Knottwood Community League is working hard on rejuvenating our neighbourhoods of Satoo, Ekota and Menisa. As part of this process, we have almost completed construction on a brand new Knottwood Community Centre to replace our current hall south of Satoo School.
Want a chance to win up to $10,000? Purchase your 50/50 raffle tickets to help purchase furniture for our new Centre and support the community revitalization campaign. 
Thank you to everyone who has worked so hard over the years to make this dream a reality for our neighbourhood.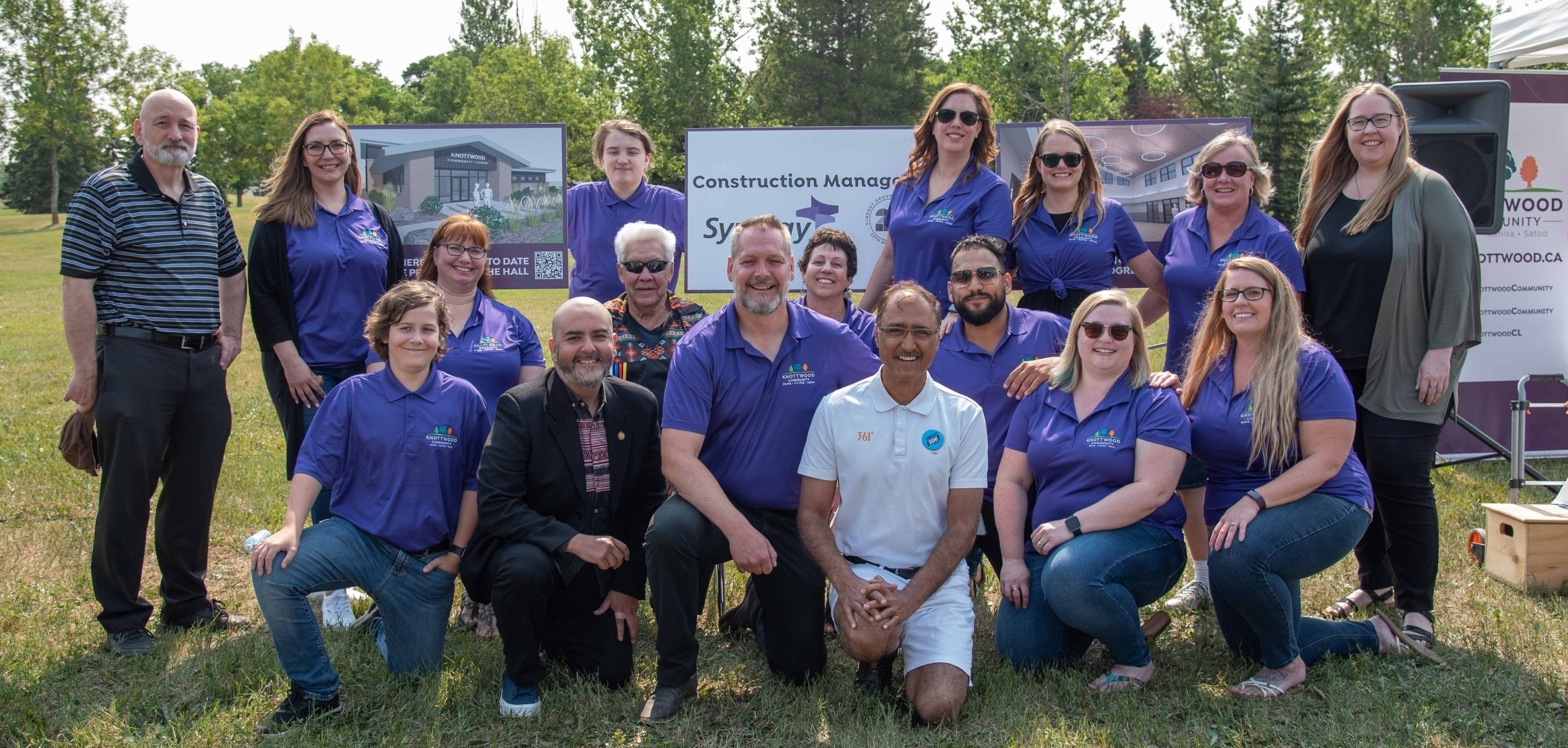 We are working on the final touches!
Construction is nearly complete…we are working on some final odds and sods. The Knottwood Centre will officially launch on September 17 from 1 to 4 p.m. as part of Community League Day.  Stay tuned for details.
Follow along on our Facebook and Instagram pages and sign up for Knottwood News for photos and updates.
Learn more about the programs and events that will take place in the new Centre here.
Support the new Centre and our ongoing community rejuvenation activities  by purchasing a 50/50 lottery ticket and your 2022 Knottwood Community League membership and/or by making a donation to the league. Please email treasurer@knottwoodcommunity.ca to donate today. Every little bit helps!
Knottwood Community Centre Amenities
Some of the amenities that will be available for Knottwood residents, surrounding communities and businesses:
A welcoming lobby with soft seating
Barrier-free washrooms and an outdoor accessible washroom
Covered exterior patio and gathering spaces
A large kitchen for serving the Hall as well as for teaching/programming
KCL Board/Site Administrators office
Community Office & Meeting Space
550 sqft lounge/gathering space including coffee\beverage servery
2500 sqft Hall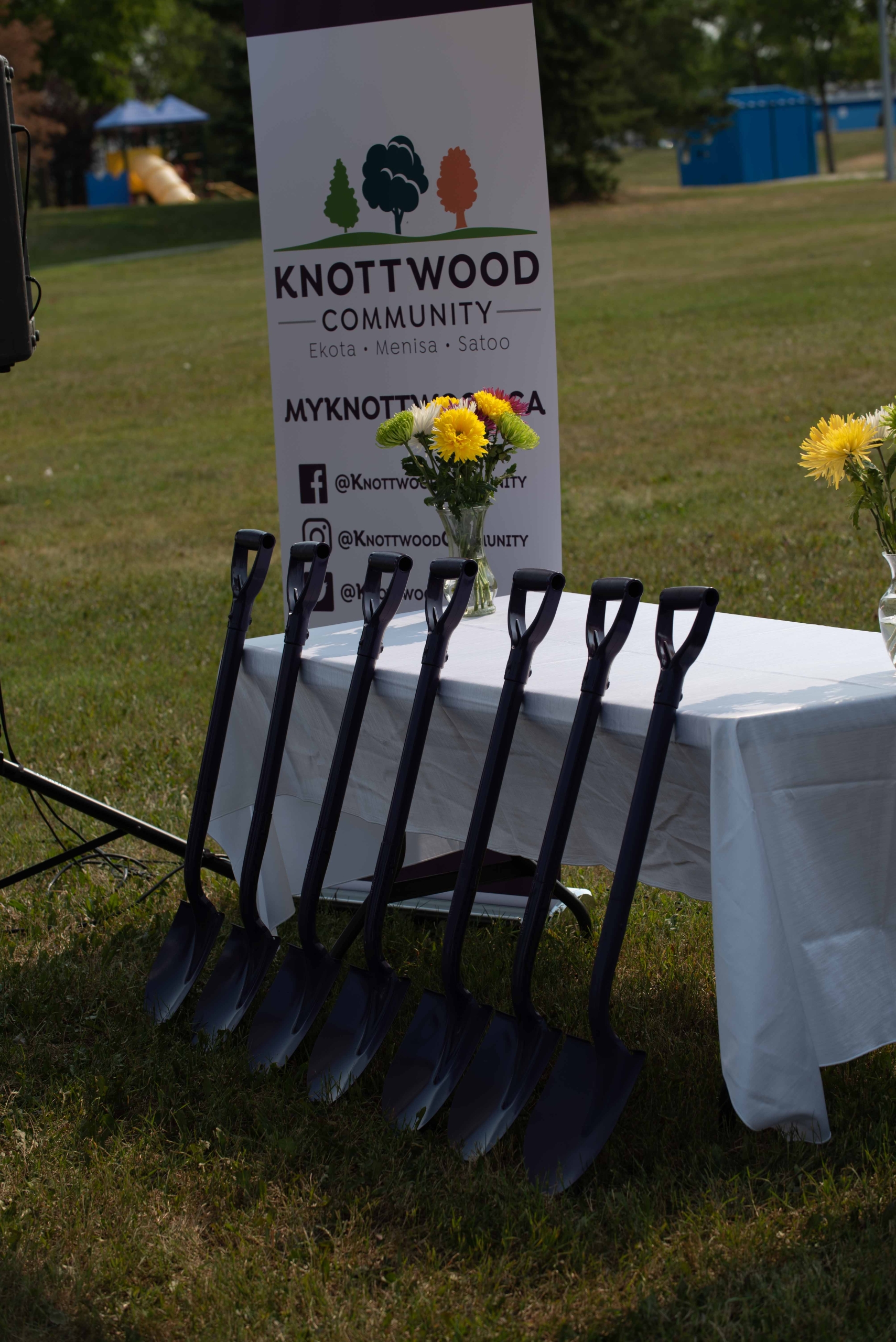 Other Community Rejuvenation Projects
Here are some of the other community rejuvenation activities we have completed or are currently working on:
New street signs on 23 Ave at 85 and 66 St.
Website upgrades and rebranding
Outdoor rink improvements (new paint, and addition of music)
A complete lighting system upgrade at our Ekota site
A community bench program to help make Knottwood more walkable for residents
Continued conversations around a community garden in Menisa
and of course, our new community centre.
Other Frequently Asked Questions:
What will be included in future phases of the Knottwood Community Centre rebuild?
Further community consultation will occur to update this, but initial consultation generated ideas for expanding the new Community Centre, updated landscaping, a spray park, pickleball courts, and more. Stay tuned for information in the future.
How did the new Knottwood Center come to be?
The concept of a new, larger, and accessible hall has been considered by numerous Boards ever since the start of the Community League.
Over the span of many years, our Treasurer has allocated gaming funds specifically towards a New Community League Centre project, increasing the project's viability and bringing us closer to moving forward.
The Board took the leap a few years ago and started various processes to bring this project to life.  Through numerous City of Edmonton processes, business case development, grant funding generation, community engagement, and many, many hours of work, we brought the project to fruition.
With support of the Federal, Provincial, and Municipal Governments, we're now ready to build.
How can I get involved in the community league and help with the revitalization efforts?
The Knottwood Community League Board is made up of volunteers who reside in our neighbourhood. There are a few openings on our Board of Directors
Volunteer Director
Fundraising Director
Seniors' Representative
In addition to the Board opportunities, we are also looking for photographers, videographers, event volunteers, administrative help, neighbourhood connectors, individuals to run individual programs and more. Please email vp2@knottwoodcommunity.ca for more information.
If you would like to make a donation to the ongoing Knottwood Community League Rejuvenation project, please email treasurer@knottwoodcommunity.ca.
How can I keep up-to-date on new developments in our neighbourhood?
We encourage every Knottwood resident to sign up for our Knottwood newsletter, and follow us on Facebook and Instagram. Also, keep an eye out to our street signs for upcoming info as well.
How can I get a Knottwood Community League membership?
There are many benefits to becoming a member of your community league – helping to grow and nurture your neighbourhood is just one of them. As a member of the league, you will have access to various discounts and perks. Your membership purchase will help us continue to provide programs and services for all residents. Learn more: knottwoodcommunity.ca/product/membership